Networking
This page includes links, logos and descriptions of the projects with which LIFE FORESTALL collaborates in networking activities: these consist of an exchange of information, solutions, good practices and results between the projects involved.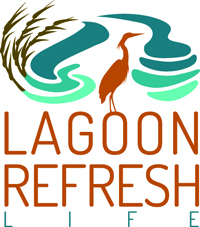 LIFE LAGOON REFRESH
LIFE16 NAT/IT/000663
The Life Lagoon Refresh project – Coastal lagoon habitat (1150*) and species recovery by restoring the salt gradient increasing fresh water input – foresees the diversion of a freshwater flow from the Sile river into the Venice Lagoon, necessary for recreation of the typical salt gradient of buffer areas between lagoon and mainland, for restoration of the reedbed habitat, and for improvement of the lagoon environment and its biodiversity.
ISPRA (Italian National Institute for Environmental Protection and Research) is the Partner Leader, whilst the Environmental Direction of Veneto Region, the University of Venice, the Interregional Superintendency for Public Works in Veneto – Trentino Alto Adige – Friuli Venezia Giulia (OOPP), and IPROS Ingegneria Ambientale Srl. are the Association Partners. The project started on September 2017 and it lasts for 5 years.
http://www.lifelagoonrefresh.eu
Project Leader - Dott.ssa Rossella Boscolo Brusà
rossella.boscolo@isprambiente.it
Project Manager - Dott. Andrea Bonometto
andrea.bonometto@isprambiente.it